By Sarah Simonovich on Sep 11th 2017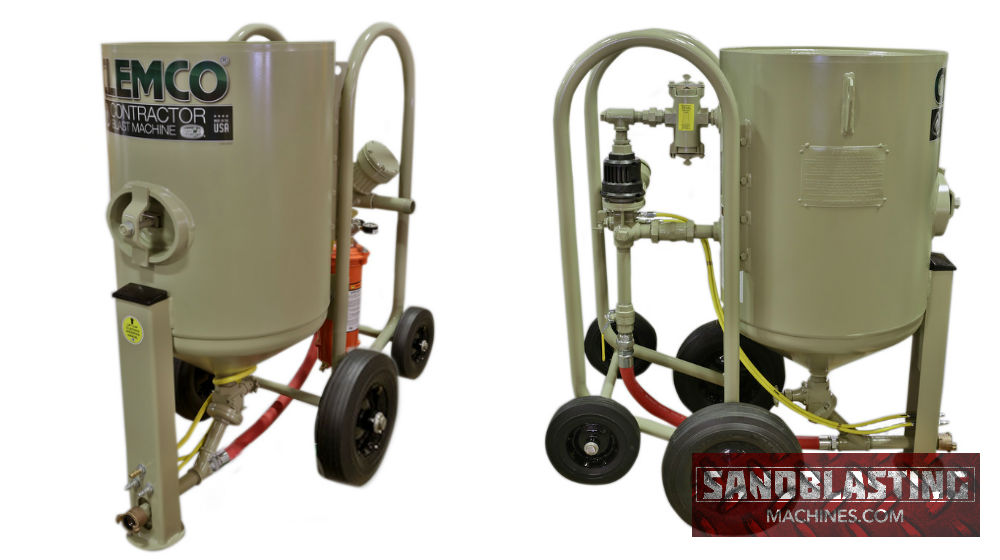 What's Different About Contractor Blast Machines
Blast machines are used by a number of different industrial professionals for a wide variety of purposes. If you're an operator working in a specially designated blast room, chances are you probably won't have much need for moving a machine much—especially if you need a high capacity pot, such as the 20 cu ft Model 3680. If that's the case, a classic style blast machine will meet your needs. If you're a contractor who values portability, then a contractor-style blast machine just might be what you need.
While Clemco's contractor series blast machines are just as efficient and operate similarly to the more traditional "classic" machine, they are built differently. They are specifically designed to be convenient, efficient, and durable for extended use in the field . The field use is pretty key here.
While classic model blast machines with an abrasive capacity up to 8 cu ft are portable (attached wheels make them easier to move around the blast sight), contractor models are actually mounted on an ergonomic cart made from heavy-duty steel tubing. This cart is intended to make moving it even easier—both around the blast site and onto or off your pickup or trailer. These cart-mounted sandblasting machines have a width of 29 inches so they can conveniently fit through standard doorways.
Portable Convenience
Contractor models are only available in 2, 4, and 6 cu ft capacities. Two cu ft models have a 2-wheel cart while the 4- and 6-cuft models have four wheels. Sturdy handles for a cage that helps protect blast machine components that are more likely to be damaged during transport, such as the remote-control valves, piping, and CPF breathing air filter.
All of the design components of these blast machines have been completed redesigned for convenience. The hookup points for both the blast hose and remote controls are centrally mounted on the front leg. The breathing air line also connects through a space on the leg. With these efficient connections, you can spend more time blasting and less time setting up. Within the front leg is also a weather-tight storage area that can hold manuals, operating instructions, maintenance schedule, and small replacement parts. Never lose your extra washer or adapters in the field again!
---
---
Millennium Valve
Unlike the classic blast machine that has separate inlet and outlet functions, these functions are combined for contractor blast machines with the Millennium Inlet/Outlet Valve. The Millennium controls pressurization and depressurization of the blast machine and has a built-in muffler to reduce depressurization noise. The internal air connection between the inlet and outlet allows for rapid pressurization and the lack of external hoses minimizes wear and replacement parts. The Millennium valve is resistant to corrosion and operates simply with few moving parts to wear or break. It can also be easily maintained in the field with standard tools so if something does go wrong, fixing it is not a difficult thing to do.
Contractor blast machines are available as pot only or in both high-pressure and low-pressure packages. These packages include all machine-related parts and accessories needed to operate the machine, as well as Apollo Respirators.
You can find all of our blast machines and blast machine packages here.
---
Still have questions? Send us a chat, email, or give us a call—we're more than happy to help you with your sandblasting needs.