By Sarah Simonovich on Mar 6th 2019
OSHA requires all individuals to wear NIOSH-approved supplied-air respirators in the presence of any dust, including but not limited to handling and loading abrasives, blasting or working in the vicinity of a blast job, and the cleanup of expended abrasive. Breathing air systems are critical in maintaining a safe work environment, which means you need to make sure you choose a reliable respirator and maintain it with the appropriate replacement parts.
If you've purchased a respirator from us before, you likely have either the Apollo 20, Apollo 60, or Apollo 600 helmet.
This chart will help you identify which helmet you have: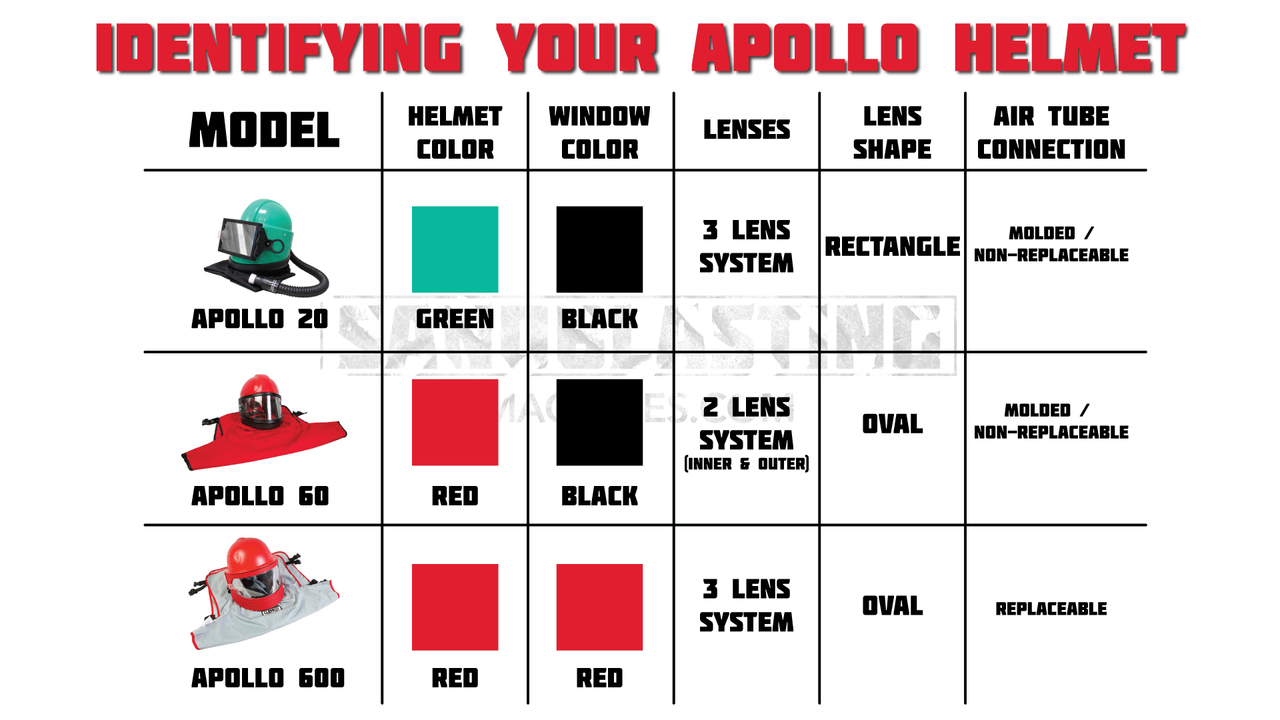 Apollo 20
The Apollo 20 supplied air respirator is the most economical option that delivers a lot of value without compromising on either quality safety standards. The bright green helmet is of single-shell construction and supported by DLX comfort-fit suspension. It is lightweight yet incredibly durable.
The DLX suspension provides comfortable padding and a chin strap which holds the helmet securely in place. The rectangular, box-front window provides you with a clear field of view during operation and a three lens system seals out dust and abrasive while protecting your sight.
The Apollo 20 DLX supplied-air respirator is available in three options: HP, LP with CFC, and LP with CFC and 50ft. hose.
Apollo 60
As of September 2018, Clemco has discontinued the Apollo 60 HP & LP supplied-air respirators. If you're looking for Apollo 60 replacement parts, you can still find those here. If you have any questions, don't hesitate to contact one of our customer service representatives.
Apollo 600
The Apollo 600 respirator builds upon the excellence of the Apollo 20 and Apollo 60 models for a rugged and durable breathing air respirator capable of withstanding even the harshest of blast environments. The bright red helmet allows for optimum visibility on the job site while the wide-span window provides you with an unhindered view of your work.
Like the Apollo 20, the Apollo 600 has a three-lens system, including a series of perforated tear-away lenses, to ensure clear vision during the sandblasting process and protect the durable fixed inner lens from premature wear.
The Apollo 600 also has additional features to make it more comfortable to wear, easier to maintain, and more durable. This single-shell helmet is available with two suspension options: DLX comfort-fit style or web-style. Besides NIOSH-approval as a type CE continuous-flow respirator, it also carries ANSI Z89-2003 approval as a category G hard hat.
This style of respirator is available in both HP and LP options. View all available Apollo 600 respirators here.
HP vs LP Respirators
When choosing an appropriate blast helmet, you will also need to decide whether you want a High pressure (HP) or Low Pressure (LP) respirator. This doesn't have anything to do with the blast machine itself; all blast machines require a minimum amount of pressure to operate.
HP respirators utilize an air compressor and a CPF-20 Breathing Air Filter. LP respirators, on the other hand, require a separate ambient air pump to supply the breathing air to the respirator via an ambient air pump.
You can learn more about the differences between HP and LP breathing air respirators in this post.