By Sarah Simonovich on Jul 16th 2018
If you can't handle the heat, you need this sandblasting vest in your life.
Clemco's Comfort Vest is a lightweight, one-size-fits-most protective garment for industrial workers exposed to stressful, extreme temperatures, either hot or cold. This vest can be used for warming or cooling in both indoor and outdoor blast environments.
Operating sandblasting equipment in extreme environments is a safety hazard to blast machine operators. Doing so can affect both health and performance. To combat this danger, you can wear this warming and cooling vest underneath your blast suit.
How does the Comfort vest work?
This vest operates on 20 cfm of compressed air. There are directional air jets located on the chest and back panels that emit generous air streams. When paired with the Climate-Control Tube, the vest offers upper body warming. For hot and humid summer days, attach the Clem-Cool Air Conditioner for upper body cooling—it's like having your own portable personal air conditioner on the jobsite. As long as the vest remains connected to the air supply, it will provide the wearer immediate and continuous comfort.
When used for abrasive blasting, the operator wears the vest under the blast suit and beneath the respirator cape. Anyone exposed to abrasive blast media are requires a NIOSH-approved Type CE Supplied-Air Respirator and an air source capable of providing Grade D quality breathing air. The vest air supply is provided separately from the breathing-air supply and the vest's air exists beneath the respirator cape.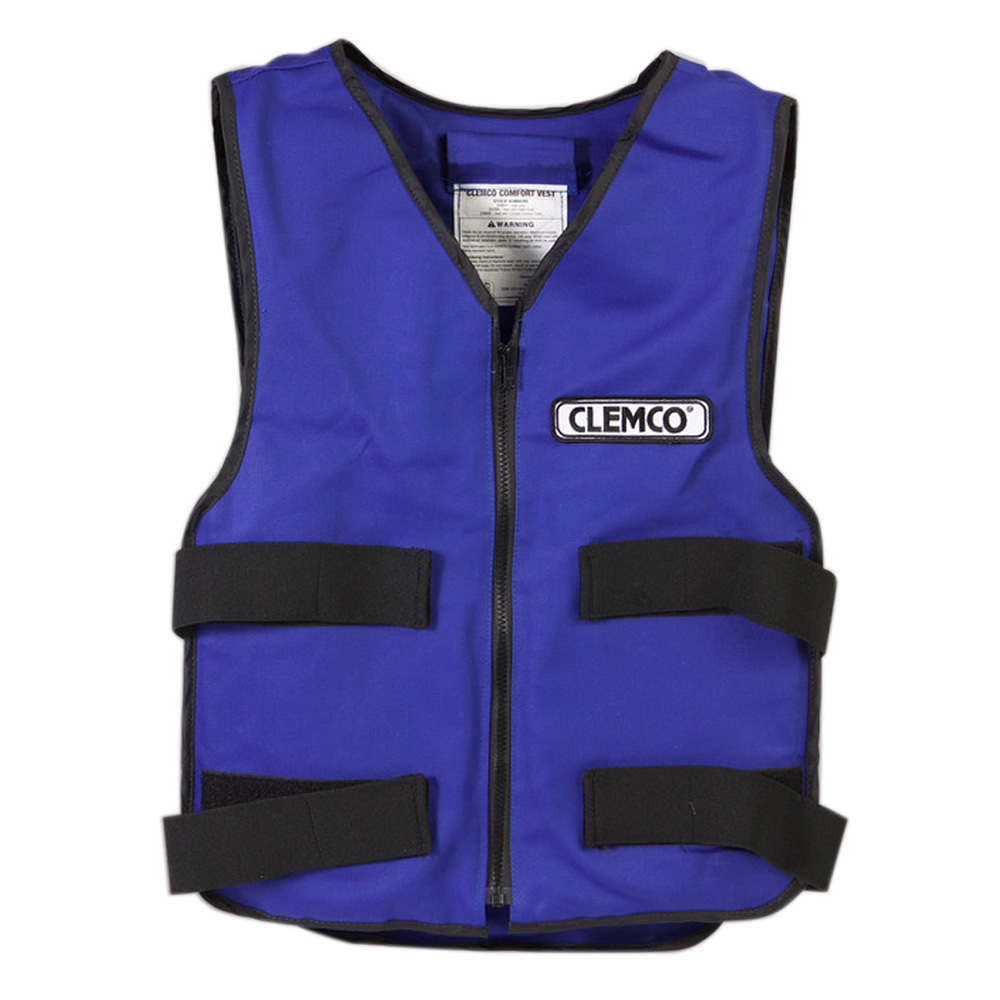 For keeping cool, the Clem-Cool Air Conditioner attaches to the vest with simple air supply tubing. The wearer can then adjust the air volume and degree of cooling very easily, even when wearing leather safety gloves. This air conditioner can cool the incoming air down to 50°F. The Clemco Climate-Control Tube, on the other hand, can both warm or cool incoming air between 30 and 40°F.
When it comes time to cleaning the vest, you can do so easily because it is made from washable fabric. It's also made from Banox-certified 100% cotton flame-resistant fabric and therefore suitable for welding operations, foundries, and other job environments where sparks may be present. It should always be worn under protective clothing.
No matter the working conditions, this warming and cooling vest can fit most individuals. It features a zippered front closure and four fabric-elastic bands with Velcro© on each side of the vest. These bands can be easily adjusted to suit both body size and garment layers (up to approximately a 52" chest). For the ultimate comfort, we recommend a snug fit.
We offer a few purchasing options for the Comfort Vest. You can purchase the vest alone, vest with Clem-Cool Air Conditioner (CCAC) , or the vest with Climate Control Tube (CCT) . All of these options also require the Comfort Vest Connection Kit, which is not included. You can purchase the Connection Kit separately here and all comfort Vest options here.
Note: compressed air is required to utilize the warming and cooling benefits of this comfort vest.
Sandblasting Safety
Do you have all the right safety equipment for blasting? Anyone operating blast equipment or exposed to expelled abrasive is required to wear appropriate safety gear. At sandblastingmachines.com, you will find all the tools you need to work both safely and comfortably, including abrasive-resistant clothing, leather gloves, eye and hearing protection, and NIOSH-approved Type CE Supplied-Air Respirators .
Worried about the summer heat? We recommend Clemco's light-duty blast suits (made from nylon and cotton) because they lighter than the traditional heavy-duty leather blast suits .
Still have questions? Our customer service team would love to help you find what you need. Reach out to use through email, chat, or give us a call at 1-855-358-2850.
---
---