By Sarah Simonovich on Apr 1st 2019
Nozzles are one of the most important pieces of sandblasting equipment, and an appropriate or inappropriate blast nozzle will affect your production. The taper and length of the blast nozzle's inlet and outlet affects both the pattern and velocity of the abrasive blast media exiting the nozzle.
When choosing the correct size nozzle, you need to consider a few things outside of the nozzle itself. Since nozzles come in different sizes, the size you need is determined by the amount of available air in cfm, the capacity of your blast machine (as well as the ID of its piping), and the types of blast hoses you are using.
To get a better understanding of how compressor size relates to the size of your blast nozzle, check out our Compressed Air Requirement and Abrasive Consumption Chart here.
Once you have determined the appropriate size of your nozzle, you still have another choice to make: what material blast nozzle should you choose?
Silicon Carbide vs. Tungsten Carbide Nozzles
The blast nozzle's liner composition determines its resistance to wear. Currently, we carry two types: silicon carbide and tungsten carbide blast nozzles.
Both types of nozzles have their pros and cons. If you're wondering whether you should go with a silicon carbide or tungsten carbide sandblast nozzle, here's an overview of the two types: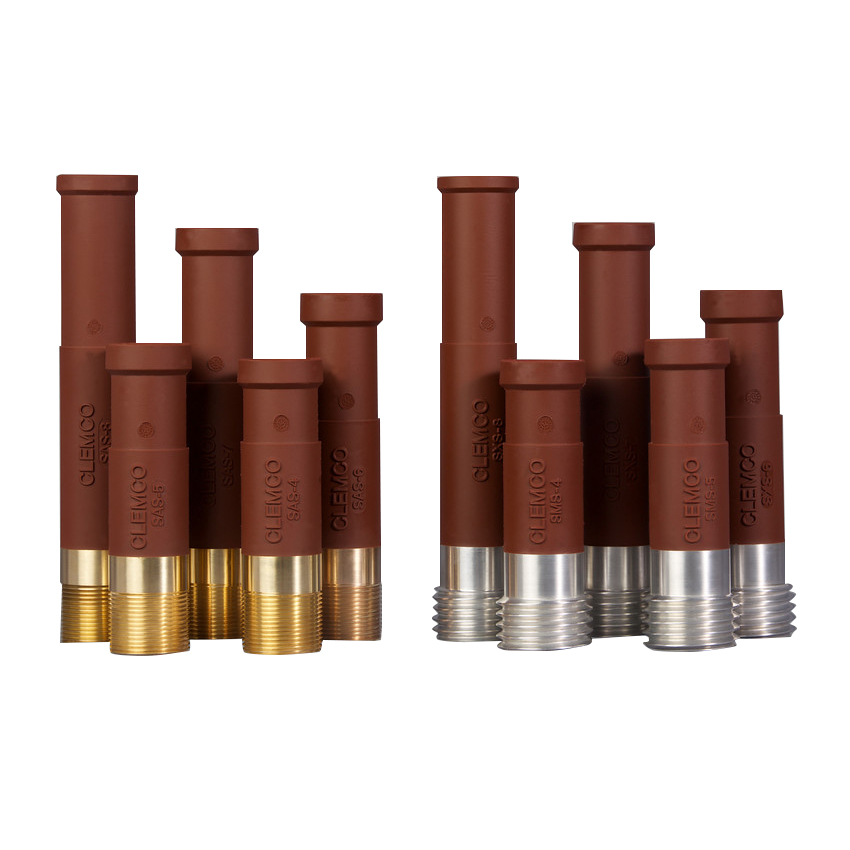 Silicon Carbide
Silicon Carbide nozzles are a popular choice because they are lightweight and have excellent erosion and abrasive resistance. Of the two types, silicon carbide nozzles have a longer lifespan and can last for up to 500 hours. The lighter weight is a plus for anyone who spends long hours blasting, as it won't add much weight to your already heavy sandblasting equipment.
While silicon carbide blast nozzles generally have a longer lifespan and are lighter weight than tungsten carbide blast nozzles, they are not as durable. With less impact resistance, they are prone to cracking or even shattering if dropped on a hard surface.
These nozzles are ideal for anyone looking for a long life before needing to replace their nozzle. However, it's important not to mishandle these, as they are the less durable option.
Tungsten Carbide
Tungsten carbide sandblast nozzles offer the best value when it comes to cost and durability. These rugged and durable blast nozzles work well with most abrasives. They are both wear- and impact-resistant and have approximately a 300-hour working life.
If overall nozzle durability is a significant concern, such as a harsh blasting environment, a tungsten carbide nozzle may be the better choice as it eliminates the risk of cracking upon impact.
Other Nozzle Considerations
Long venturi nozzles are the industry standard for blasting surfaces that are 18 to 24 inches away for hard-to-clean surfaces or 30 to 36 inches for loose paint and soft surfaces. We recommend short-venturi nozzles for blasting distances under 18 inches.
Venturi refers to the tapering within the blast nozzle. This shape decreases pressure while increasing velocity for the abrasive.
Both Silicon carbide and tungsten carbide nozzles are available with two types of threading: the standard 1-1/4" threading and the Clemco-exclusive contractor mounting thread that is wider to help prevent dust, dirt, and abrasive particles from getting stuck in the nozzle. You will need to choose a nozzle holder that has the same threading as your nozzle and the same ID/OD of your blast hose.
If you have any questions about choosing the right blast nozzle for your application, you can check out our nozzle size chart, silicon carbide nozzle cross reference, or contact us for assistance.